Urban Series V3
£249.00
£500.00
saving
£251.00
Urban Series V3
£249.00
£500.00
saving
£251.00
Customer Reviews
Wicked board, rides very smooth…
Very happy with my choice on board and brand. The wheels and motor are very smooth and make for a smooth riding experience. Overall I'd rate this 5 out of 5 stars easily.
Value for days!
First time I looked up e-board for my son the prices turned me off instantly. $1000, $1500, $2000!! NO way was I going to spend that much. I found Black Hawk again, on a google search and their priced seemed perfectly fair. The delivery process was very pleasant, the driver was polite and arrived on time. Unboxing the board was a nice experience, very proffesional and no damage or imperfections. My son got his board for his birthday just last week and so far loves it very much. I'm genuinly impressed with the Urban Board and the level of service / value from Black Hawk. Well done, will be recommending.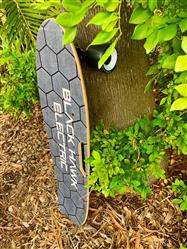 2 month review:
Urban board 2 week review: Performance, 8/10 - as expected. Riding, 9/10 very comfortable and smooth to cruise. Quality, 10/10 - seems very well put together. Service, 10/10 - no complaints, very fast delivery and the tracking number was emailed to me the same day I ordered. Value, 11/10 - you simply won't find a better deal anywhere else online for a brand new board that comes with a warranty. Cheers.
Practical pleasure
This has replaced my bus route and in just 8 weeks, paid for itself! All the while I'm getting the wind through my hair and the enjoyment of blasting along passing the traffic jams whoohoo!
Thank god for Li-Ion
My first e-board for a 'Big Daddy' SLA type off road board that weighed a staggering 35kg :O the fact that this board only weighs a 5th of that is amazing! The battery technology that you get for just $400 is amazing and well worth it.